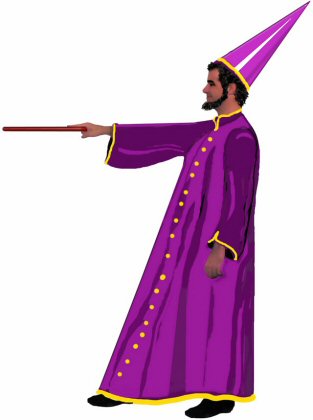 27 Surprise

Everyone rushed to congratulate the wizard and shake his hand.
"Take it easy", laughed Zettelwitz, pleasantly surprised.
"Perhaps you wouldn't mind letting me go?" He asked the python politely.
Slowly, the snake loosened its powerful coils. "I won't be far away", she hissed.
"And now I would like to put all my transformations into reverse",
declared the wizard, flourishing his magic wand.
He whispered something complicated. The sweet sound of a flute floated in the air.
All the creatures he transformed came running, hopping and flying to join them.
Ronya stormed towards the wizard in a rage. Zettelwitz held his hands up.
"Miss Ronya, please don't be angry! I promise not to cause you any more trouble in the future.
Can you forgive me?" "I'll conjure up a new birdhouse", he added in a hurry. "Any requests? I can make it any way you like!"
The girl quickly calmed down. "No need", she said happily. "Surprise me! If the house isn't right, you can always change it!"
There was a sound of soft music again and a new building appeared. It was so grand that everyone was delighted.
Everybody clapped. "Magnificent! Beautiful! Lovely", they called.
"You've done a magical job, Zettelwitz dear", said Ronya with shining eyes and gave him a little kiss.
Zettelwitz was very happy. Ronja liked him!
It felt good to be admired. In fact, it felt much better than to be feared and hated.
"That's not all I can do. I will now conjure up the whole alphabet for you!"
With a smile, the magician made the whole alphabet go whizzing by. All 26 letters, large and small:

A B C D E F G H I J K L M N O P Q R S T U V W X Y Z
a b c d e f g h i j k l m n o p q r s t u v w x y z

The sun had gone down, and it was getting chilly. Everyone poured into the house. Inside, there was a surprise waiting for them.
Tables groaning under a sumptuous buffet! What delicious food!
Avocados and apple tart, birdseeds, biscuits and blueberry pie, cheese and creamed corn, dill sauce on poached eggs, fresh figs and other fruit,
flies in honey, grapes, honey-lemon-ginger cookies, juice, kiwis, meal-worms, lamb chops with leeks and mushrooms, noodles and nuts, olives and
cocktail onions, orange sauce and papaya, quince pudding, roast beef, radishes, sausages, sherry, shrimp salad, spiders and sunflower seeds, turkey breast and tuna steaks,
Uncle Uli's cucumbers, vegetarian stir fry, vanilla ice-cream with rasperries, walnuts and water melon, wine, yams with yogurt and zesty zucchinis -
Enough for everyone!


Now our wizard's made amends,
Everyone comes and brings their friends
From miles around, amazed to see
Zettelwitz charming the ABC.

Table Mountain Wizard www.RosieBreuer.com © Rosemarie Breuer