---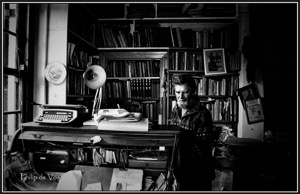 Photo by Philip de Vos 1998
Jan Rabie
1920 - 2001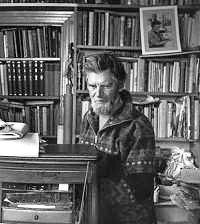 Avantgardist of the "Sixties"
Author of the expressionistic - surrealistic short stories: Een-en twintig, the historical Bolandia series and many other works
Jan Sebastian Rabie was born on 14 November, 1920, at George. He grew up in Stellenbosch, Paarl, Riethuiskraal, Stilbaai and Riversdal and in 1937, started his studies at Stellenbosch University (MA in Afrikaans and Dutch, 1945)
His first poems were published in different journals when Jan Rabie was a student and some were included in Stiebeuel and in the first edition of theGroot verseboek.
1941 - 1944: Teacher in Umtata and Knysna
Jan moved to Johannesburg to work as a full time writer, before he left for Paris and his travels through Europe.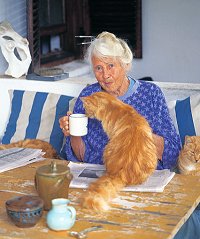 In Paris, where he lived for seven years, he met the painter Marjorie Wallace. They married on their return to South Africa in 1955 . Their home in Green Point, Cape Town, became a lively center for many writers and other artists.
For some time Jan Rabie worked for the S.A.U.K. - South African Broadcast Corporation -, and wrote for Die Burger. Jan Rabie felt strongly about the injustice of apartheid. This (and the role of censorship) was the topic of many of his writings and polemics.
1966: On a Carnegie Bursary he travelled with his wife to the USA to meet other writers, and then to Europe and Israel. They lived for three years in Kreta.
Back in South Africa in1970, the Rabies moved to Onrusrivier, where Jan continued to write - and Marjorie to paint - full-time.

Marjorie in 2003
Photo by Neville Lockhart for INSIG
"Jan and Jorie" loved cats and large dogs

Once more Jan Rabie wrote reviews of South African books for Die Burger. He translated more than forty books, mainly from French, including Albert Camus' L' Etranger - Die buitestaander, 1966.
He was concerned in the conservation of South African coastal areas and sea life and was co-author of an encyclopedia of marine flora and fauna. Jan Rabie was a co founder of the Afrikaans Writers Association (Afrikaanse Skrywersgilde).
He died on 15 November, 2001, one day after his 81. birthday.
Jan Rabie was " 'n man wat min of meer eiehandig die hele koers van die Afrikaanse prosa verlë het".
André Brink
Awards and Honours:


1977: Scheepers Prize for Youth Literature for
Die seeboek van die sonderkossers (1975)
1985: Legion d' Honneur by French Gouvernement

Tydskrif 3: 'n Herontmoeting van Afrikaanse kortverhale uit die veertiger- en vyftiger
Andre P. Brink; Jan Rabie, LAPA, 2003
Jan Rabie: 'n Biografie: An Biografie
J.C. Kannemeyer, Tafelberg, 2004
Hutspot: Reissketse, verhale, essays, praatjies
Jan Rabie (compiled by J C Kannemeyer), Protea, 2004
21+
J. RABIE, Human & Rousseau, 2000
Jan Rabie, Best Books, 2004

List of works:

Diary: Paryse dagboek, 1998
In memoriam Ingrid Jonker, 1966 (editor)
Short Stories: Een-en-twintig, 1956
Dakkamer en agterplaas, 1957
Die roos aan die pels, 1966
Versamelverhale, 1980

Science fiction:
Swart ster oor die Karoo, 1957
Die groen planeet, 1961
Die hemelblom, 1971
Youth books:
Twee strandlopers, 1960
Die seeboek van die sonderkossers, 1975

Novels:
Nog skyn die sterre, 1943
Geen somer, 1944
Vertrou op môre, 1946
Die pad na mekaar, 1947
Ons, die afgod, 1957
Die wonder van Afrikaans, 1959
Mens-alleen, 1963
Kooi, 1965
Johanna se storie, 1981
Bolandia 1-5:
1. Eiland voor Afrika, 1964
2. Die groot anders-maak, 1964
Waar Jy Sterwe, 1966 (translated as A man apart, 1969)
4. Ark, 1977
5. En oseaan, 1985

Essays:
Die ewolusie van nasionalisme, 1960
Rooi, 1965
Polemilia, 1957-1965, 1966
'n Boek vir Onrus, 1982
Buidel, 1989

Travel:
Groen reise, 1947
Klipwieg, 1970
'n Haan vir Eloúnda, 1971
Tuinprovinsie Natal (1977)
Hutspot (a collection of Rabie's scattered articles, compiled by JC Kannemeyer), T, 2004

Translations:
Albert Camus, Die buitestaander
Rabie se bydrae tot die Afrikaanse prosa lê egter daarin dat hy met die woordvaardigheid en kennis wat hy veral in Frankryk opgedoen het, in Afrikaans kom gestalte gee het aan 'n eerlike blik na binne oor Afrikaans as taal en oor dié enklave Afrikaanssprekers wat dikwels oor die hoof gesien word. In daardie opsig is sy werk uniek.
D.H. Steenberg in Perspektief en Profiel
'n Afrikaanse Literatuurgeskiedenis

---

www.StellenboschWriters.com © Rosemarie Breuer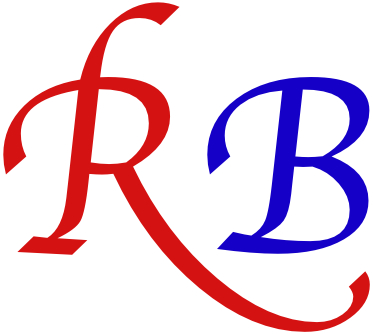 Books