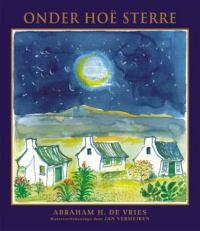 Short stories:
Hoog teen die Heuningkrans; Culemborg, I956.
Verlore Erwe; Culemborg, I957.
Vetkers en Neonlig, H.A.U.M., I96I.
Dubbeldoor, T, 1964
Vliegoog, T, I965.
Dorp in die Klein Karoo, AP, 1966.
Twee maal om die son, T, I968.
Volmoed se Gasie, H&R, I972.
Briekwa, Perskor, I973.
Bliksoldate bloei nie, H&R, I975.
Die Klein Karoo, T, I977.
Uur van die Idiote, H&R, I980
Soms op 'n reis, H&R, I987.
Nag van die clown, H&R, I989.
Plaaswinkel naby Oral, H&R, , I994
Skaduwees tussen skaduwees, H&R, 1997
Op die wye oop Karoo, H&R, 2002
Tot verhaal kom, Afrikaanse kortverhale, H&R, 2003
Verhale uit 'n koel voorhuis, 2005
Rooikoos Willemse is soek - 2. volume of plaaswinkelstories uit die Klein Karoo
Onder hoë sterre, Protea Boekhuis, 2007
Verbeel jou dis somer, Human en Rousseau, 2009
Die behoue huis - 'n Keur uit die kortverhale, Human & Rousseau, 2011

Gedigte, Poems:
Proegoed, H.A.U.M., I959.
Novelle/Novel:
Kruispad, T, I966.

Reisbeskrywings/ Books of Travel:

Die Rustelose Sjalom, H&R, I965.
Afspraak met Eergister, T, I966.
Joernaal uit 'n Gragtehuis, T, I968.

Vertalings/ Translations:
Zorba die Griek (Nikos Kazantzakis), AP
Jojakim van Babilon (Marnix Gijsen), AP
Die Vonnis ( Somerset Maugham), AP
Die Blinde uil (Sadegh Hedayat), APB
Palmwyn (Adriaan van Dis), H&R.

Bloemlesings / Anthologies:
Kort Keur (samesteller), H&R, I977; Tweede uitgawe I978; derde uitgawe I986; vierde hersiene en uitgebreide uitgawe, I988
Die Afrikaanse kortverhaalboek (samesteller), H&R, 1978; tweede bygewerkte uitgawe I980; derde bygewerkte uitgawe I985
Eeu (samesteller), H&R and T, 1996
Steekbaard (samesteller), Klipbok-uitgewers, , 1989.
Op die wyse van die taal (mede-redakteur), Vlaeberg, I989
Eeu: Honderd Jaar Van Afrikaanse Kortverhale, Human & Rousseau, 1995
Kort vertel (Eerste uitgawe 1998 deur Suid-Afrikaanse Instituut), 1998
Uit die kontreie vandaan, bundel kontreiverhale (samesteller) 2000
Die Afrikaanse kortverhaalboek (samesteller), Human en Rousseau, 2004
Alles Goed en Wel, 2007
R.K. Belcher se poësie, Van heidebos en Skepper (huldeblyk), (compiler), 2008
Die Afrikaanse Kortverhaalboek (compiler), Human & Rousseau, 2012
Die sewende hersiene uitgawe van hierdie bekende bloemlesing sluit 133 verhale van 81 skrywers in.