Home

Boek: Wilhelm Knobel - die ongewapende man UCT Forensic giant Knobel dies
---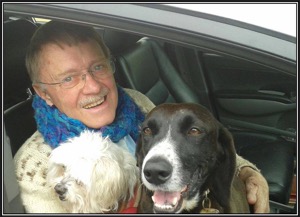 Deon Knobel 2019 (Photo by Philip de Vos)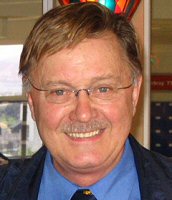 Deon Knobel
1939 - 2019
Author of Medical publications and compiler of Wilhelm Knobel's poetry
Publisher: Belmonte
Professor of Forensic Medicine at Cape Town University until 2004
Deon Knobel was born on 5 April 1939 at Bethlehem. He was the youngest brother of the Sestiger poet, Wilhelm Knobel. Deon studied Medicine at the University of Stellenbosch (1956-58), where he was offered the Victoria Bursary for overseas studies, in 1964, which, due to personal circumstances he was unable to accept.
Deon sang in the University Choir of Philip MacLachlan, and generally took part in the cultural life of Stellenbosch. He was a member of the Geneeskunde Studenteraad and on the editorial board of Potio medicata, the Jaarblad van die Geneeskunde Studente.
He qualified in 1958 in Anatomical Pathology, obtained the Diploma in Forensic Medicine from the SA College of Medicine in the same year, and spent a life-time in Forensic Medicine and Pathology in Cape Town, and the last 21 years as Professor and Head of the department of Forensic Medicine and Toxicology at the Faculty of Health Sciences of the University of Cape Town.
He was well-known in forensic circles, and also became known as a medical Activist in the fight for the Human rights of patients infected with HIV.
He received a Distinguished Teacher Award from UCT in 2000, and is the author of numerous scientific articles in the fields of Forensic Medicine, Medical Ethics and HIV/AIDS.
His three volumes of student manuals became well known and sought after in the field of Forensic Medicine and assisted many general practitioners in their studies to obtain the Diploma of Forensic Medicine from the College of Medicine of South Africa.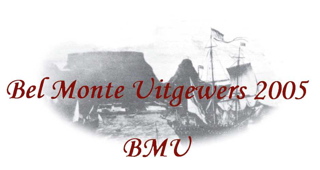 Since his retirement on 30 April 2004, Deon Knobel had been involved in the "resurrection" of the literary heritage of his brother Wilhelm Knobel. He formed his own Publishing Company, Bel Monte, with several successful publications; the elegiac song cycle, "...en skielik is dit aand...", by Hendrik Hofmeyr on five of the well-known elegiac poems by Wilhelm; and Twee Siklusse, a commemorative book containingDonker en skerp lig,and Bloedsteen, the two major poetry cycles by Wilhelm Knobel. Read the review by Louise Viljoen. In 2011 followed As die woorde begin droom - 'n Keur uit die gedigte van Wilhelm Knobel
The work on Wilhelm Knobel's oeuvre is continuing and most of his friends and colleagues of the Sixties have been traced and contacted for contributions to what will eventually become a Scrap Book biography of the life, times and work of Wilhelm Knobel and his colleagues of the Sixties.
Deon Knobel died on 1 March 2019 following a short illness.
Die Twee siklusse is saamgestel en uitgegee as gedenkbundel op Wilhelm se 70e verjaardag herdenking op 26 Oktober 2005, ".. omdat daar soveel warmte, drama, patos en skoonheid in sy gedigte is dat die jonger geslag digters wat hom nooit geken het nie en die ouer geslag wat dalk al vergeet het, hom deur sy gedigte kan ontdek en herontdek. Hierdie twee siklusse verwoord, en soos Wilhelm dit moontlik self sou stel, verbeeld en verklank sy skeppingstalent as digter -- intiem verweef met die woelinge in sy brein en gemoed te wyte aan die bipolère stoornis waardeur hy sy hele volwasse lewe geteister is: die een -- sy skeppingsvermoë -- wat sonder die ander -- sy siekte-- nie sou kon bestaan nie.
From the post script of the book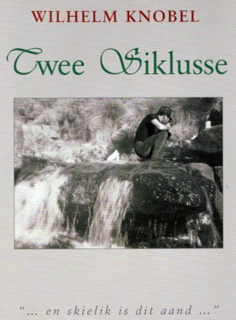 12 March 2006 at Protea Bookshop: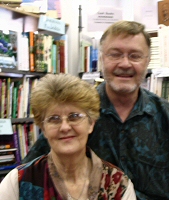 Engela van Rooyen and Deon Knobel during Woordfees 2006.
Engela started her talk with grateful reminiscence of Wilhelm's generous help when she started to write.
Deon, Wilhelm's brother, commissioned Stellenbosch composer, Hendrik Hofmeyr, to set 5 poems to music: 5 elegiese verse vir bariton en klavier.


Books:


3 volumes of Forensic Medicine Manuals for Medical students at UCT, which were widely used by doctors who studied for their Diploma in Forensic Medicine:
Volume I: Pathology of Trauma
Volume II: Clinical Forensic Medicine
Vol III Medico legal Aspects in Medicine
Twee Siklusse (compiler), Belmonte, 2005
(commemorative volume published for his late brother, Wilhelm's 70th birthday)
... en skielik is dit aand ..." Song cycle by Hendrik Hofmeyr, Belmonte, 2005
Wilhelm Knobel die ongewapende man: van kindertyd tot sterwenstyd, 2008
Wilhelm Knobel, As die woorde begin droom - 'n Keur uit die gedigte van Wilhelm Knobel (compiled by Deon Knobel), Bel Monte Uitgewers, 2011

January 2008
Dear friends, colleagues and members of my family, Liewe vriende, kollegas en lede van my familie, 
During 2006 two of my ex-students of medicine asked me whether they could make a short documentary film about aspects of my life and work. Although at first very hesitant about the idea, they eventually persuaded me to agree. It led to two very prolonged interview/recording sessions on a whole Saturday and most of the Sunday that followed. It was very exhausting and emotionally draining.
  From a total footage of more than 12 hours, Dr John Lazarus had the daunting task of editing it into a short film of no longer than 35 minutes. His idea of breaking it down into six lessons turned out to be highly successful.
In the end the whole project turned out to be rewarding and very  fulfilling. It also is very revealing of aspects of my private life and work and even more so aspect sof my background, childhood and adult experiences.
At an international AIDS congress in Montreal in 1989 Carol Lavafor, a woman in terminal stages of AIDS, opened the conference with the following words, which have become a motto of mine also whenever I have to give a lecture: "My grandfather who was a North American Indian medicine man told me as a very small child: If people speak with their hearts and people listen with their hearts, many wonderful things will happen. " She continued by telling the large scientific audience that she was speaking with her heart and hoped that they were listening with theirs.
My invitation too you is to join us in watching the film in which I speak with my heart. Perhaps you would like to attend and listen to me with yours.

Groete
  Deon Knobel


SUIDOOSTERFEES:
...en skielik is dit aand... - 6 lessons on death, desire & loss
Friday, 1 February 2008, 18.30 at Artscape together with "Ouma se slim kind". Price R 15.00


...en skielik is dit aand... is a documentary film which explores the eccentric life and compelling personality of a man who has lived in the shadow of death. Deon Knobel is Emeritus Professor of Forensic Pathology at the University of Cape Town. He has performed over 20 000 autopsies in his 40-year career.
This interview-led film follows Knobel as he reveals his encounters with mental illness, murder and bereavement. Erudite and outrageous, his engaging narrative illustrates his struggles in a world of homophobia, AIDS denial and personal loss.

WILHELM KNOBEL DIE ONGEWAPENDE MAN: van kindertyd tot sterwenstyd
vertel die lewensverhaal van ons broer, die Sestiger Digter, Wilhelm Knobel, gebore 26 Oktober 1935 en oorlede op 4 Januarie 1974.
Wilhelm het erg aan Bipolêre Gemoedstoornis gely. Sedert sy eerste aanval op 19-jarige ouderdom, is hy lewenslank, tot en met sy dood op 38-jarige ouderdom, daardeur geteister. Hy het gesterf in sy slaap tydens 'n hiper-maniese aanval, waarvoor hy massiewe dosisse medikasie ontvang het wat uiteindelik sy asemhalingsentrum onderdruk en sy dood veroorsaak het. Ongelukkig was die wetenskap oor mediese behandeling en die verskeidenheid psigotropiese middels nog nie so goed ontwikkel en verstaan soos vandag nie. Carina se bydrae op die miniseminaar van LitNet verduidelik besonder goed, en in detail die verskeidenheid middels wat hedendaags voorgeskryf kan word.
Wilhelm Knobel se oeuvre bied 'n unieke geleentheid om hierdie siektetoestand, met fases van manie en depressie, in digterlike taal te leer ken en verstaan. Dit is ook bewys van die kreatiwiteit en skeppingsvermoê wat dikwels met Bipolariteit gepaard gaan. Sy gedigte oor die onttrekking en diep depressie is aangrypend en word dikwels in die vorm van verlate landskappe verwoord.
Die sikliese aard van die siekte beskryf hy in 'n ontstellende gedig, Sprokie, waarin 'n "sluwe" voël uit die see opstyg en die "ryp rooi vrug, iewers in 'n bos" aan repe skeur, met slegs verdroogde repe skil en die muwwe reuk wat hang in die lug, wat oorbly. Die volgende oggend styg die voël "met nooit gestilde kreet" weer uit die see en in die bos "hang die ryp vrug weer glansend en rooi en vol."
In 'n verslag oor sy werk skryf Petra Müller: "As ek dit reg het is hierdie verse van hom die eerste poëties-verantwoorde ondersoek na die verval van die gemoed in ons Afrikaanse digwerk. Die werk van Ingrid Jonker het beroemd geword, maar as "vervloekte" digter - in die Franse sin van die frase - het Knobel eweveel aanspraak op aandag (Verslag, Mei 2005.)
Professor Louise van Zyl, in haar indrukke na die herlees van Knobel se werk in 2005, skryf: "As beeld van 'n digter wat hom in 'n oorgangstydperk in die Afrikaanse letterkunde bevind en verstegnies, sowel as tematies worstel met die spanning tussen die tradisionele en die vernuwende, is Knobel se oeuvre 'n besonder boeiende een ..." (Verslag 2005)
Oor die gedig "brief vir Breyten" skryf André Brink in Rapport van 13 Januarie 1974, nege dae na sy dood, die volgende: "In weinig Afrikaanse verse word die volkome ontbloting van die mens teenoor die onbegryplike so ontroerend vergestalt: Dit is oor gedigte soos dié dat Wilhelm Knobel, die 'ongewapnde man', by uitnemendheid in ons poësie onthou sal word."
En John Kannemeyer, in Die Burger van 9 Januarie 1974, skryf: "Een van die kosbaarste kort verse van Wilhelm is sy vertaling van die driereëlige gedig van Salvator Quasimodo ... vir my een van die mooiste dinge wat ek in Afrikaans ken."
Elkeen staan alleen op die hart van die aarde
deur 'n straal van die son deurboor:
en skielik is dit aand.
Die boek is privaat uitgegee deur Bel Monte uitgewers.

---

www.StellenboschWriters.com © Rosemarie Breuer