Home


Gallery of paintings Francois' book reviews Doctoral thesis The gentle brilliance of TO Honiball Die'Rembrandt van Suid-Afrikaanse spotprentkunstenaars' (pdf)
---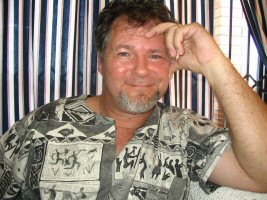 Francois P Verster
Painter and author of books and e-books
Francois P. Verster was born 24 January 1962 at Bellville and grew up in Parow. He studied at Stellenbosch University (from 1980), taught school to Bushmen in the Caprivi Strip (Namibia) during military service, worked as a teacher at different schools until 1990, joined National Archives Services in 1991, where he was Principal Archivist in charge of outreach projects at Cape Town Archives Repository.
Since 2006, Francois Verster is working for NASPERS as company archivist/historian, managing the huge collection of manuscripts (so far 5 million pages have been scanned) and writing histories, such as that of Eikestadnuus (published in Global Media Journal, 2009). Since completing his D Phil in Cultural History (Stell.) in 2003, he has published 3 books, as well as 2 e-books on CD ROM.
His first novel, Deur na Nebula nege, was voted first on the Good reads SF list in 2016.
He has contributed numerous articles to periodicals and newspapers, mainly on academic subjects. Some of his poems were published in Haikoes: gebede vir die landskap (2008), which were also used in Strijdom van der Merwe's 'landart' exhibition at the KKNK that year, and in Nuwe Kinderverseboek, 2009. Some short stories have also been published on the website of WEG and in BK Publishing's Metz and Bop (2009). More short stories (BK and Fantasi) and poems (Lapa) have been published in Grensoorlogstories (2012) en Skarlakenkoors (2013).
He is the author of a book on the Simon van der Stel's trek to the copper mountains (Op die spore van Simon van der Stel, 1685 -1985) published in 2005. Some of his illustrations have also been included in books, such as Deur die duineveld na Skipskop by Brönnhilde Ekermans (2004).
He has contributed numerous articles to periodicals and newspapers, mainly on academic subjects.
Verster is a lifelong fan of comics and cartoons and has lectured widely on these subjects, including at the University of Dijon in 2004. While his Masters in History (1992) was about agricultural history, he has since concentrated on pictorial humour - his DPhil was about T.O. Honiball and in 2010 he completed another MA (Journalism), this time on Zapiro and the Rape of Lady Justice. His is the only post-graduate work on pictorial humour that appears on the homesite of the internationally renowned researcher Prof. Gene Kannenberg, www.comicsresearch.org.
Praise for his last books:
Die Groot Drie laat 'n mens met die gevoel dat die hartklop van 'n gemeenskap, hul sosiale omstandighede en politieke ingesteldheid, kwalik beter vasgevang kan word as in hierdie joernalistieke kunsvorm.
Marenet Jordaan, Stellenbosch University, TYDSKRIF VIR LETTERKUNDE, 53 (2) 2016
Read more: Die groot drie Resensie (pdf)

Omega, oor en uit:

Francois Verster se vertelling van sy persoonlike oorlog, as onderwyser vir Boesmankinders in die bekende Omega-basis in die destydse Suidwes, is deurspek met die soort humor en waansin so eg aan die lewe op die grens. Hier is 'n stem wat 'n mens as verteenwoordigend van 'n stille meerderheid ouddienspligtiges sou kon beskou. Deon Lamprecht

Dankie, dit was 'n lekker lees. Ek dink jy het hier meer bereik as in jou twee jaar in uniform. Maar waarom so kort, skaars 200 bladsye? Dis soos biltong, net soos jy lekker eet is dit op...
So, dis ook 'n INSIGGEWENDE boek. Ek verstaan eindelik waarom ons Alles Verloor het. Ek hoop jy voel lus vir nog? Skryf 'n lekker DIKKE, met baie vleis aan. Ek gaan dit baie geniet.
Dan Sleigh


Verster started painting seriously after contracting a rare type of arthritis in 1992, which compelled him to give up sports. Prior to this, he only drew caricatures on demand, such as for university and school papers and painted non-figurative works for friends. Always a natural draughtsman, he started taking painting classes, eventually befriending well-known artists such as Gregoire Boonzaier and Ann Walton, and art connoisseurs such as Hans Fransen, who encouraged him to keep working at his own style, which has evolved from abstract to photo-realism and eventually to what could be described as realistic expressionism. Although Verster admires the subtleties of watercolours, he admits to be too impulsive and impatient for that genre. He prefers the pliability of oils and rich colours of pastels. Not surprisingly, Claude Monet, and our own Jean Welz and Francois Krige are some of his favourite artists.


The morning after
(In: Deur die Duineveld na Skipskop, 2004)

Seilbote en suidoos
[Sailing boats and southeaster]
Oil on canvas, 2003

Drinkbroers
[Brothers drinking]
Oil on board, 1995

A jack-of-all trades by nature, Verster tries his hand at a wide variety of themes, but he favours landscape and animal studies. Verster sees his versatility both as strength and weakness, because he rarely spends much time at any given theme, style or genre. He enjoys the cross-pollination such diversity generates.
Francois Verster writes freelance for BOLANDER (a regular history column, essays, interviews with artists, social commentary, book reviews. etc.), as well as CAPE LIBRARIAN, and occasionally for newspapers and magazines. Hobbies: Interests are many, including travels, various sports, mountain hiking, orchid growing, and music. He is also active in cultural-history circles, paints, illustrates books and is a voracious reader. Freelance journalism, however, dominates at present.


Francois is married to Ilse van Heerden-Viljoen
of Bloemfontein since 7 July 2018.

Charlene and Francois at the launch of
the Simon van der Stel book at Cape Town Castle

Signing his page in the book
Review of Kinderverseboek pdf


Click photos to enlarge

Painter, cartoonist & illustrator
Painting: works have been exhibited at various galleries in Cape Province and Gauteng. One painting is part of permanent collection of Cape Peninsula University of Technology. A comic strip was exhibited in Basel, Switzerland (strip competition, 1999).
Cartoons: Vires Unitates (Eendrag manskoshuis), Bolander Illustrations: Deur die duineveld na Skipskop(2004), Op die spore van Simon van der Stel (2005)

In 2005 writing took over as a creative pursuit and works are often executed on commission.
He is currently working as editor on an encyclopaedia of the VOC with Dan Sleigh and will also be contributor in a book about Die Burger's history which will be published during 2016.
Membership of organisations:
Geografievereniging, Universiteit van Stellenbosch, 1980 - 1982
Berg- en Toerklub, Universiteit van Stellenbosch, 1980 - 1985
KJA, Stellenbosch 1980 - 1985 (1985: Kringleier)
SA Society of Archivists 1992 - 2007 (vice-chairman: 2001)
SA Cultural History Society since 1998 (chairman: 2011)
Van Riebeeck Society since 2007
Council for Nominations of Western Cape's Ministerial Arts, Culture & Heritage Awards, 2007
Cape Town City Council Committee for Street names 2007
Western Cape Provincial Geographical Names Committee since 2009
Trustee of Coachman's Cottage Museum, Somerset West since 2010
VOC Foundation 2011
Member of the Friends of Welgemeend & Boerneef Society since 2007 (Chairman 2015) and member of the Owl Club (since 2015). Member of the international society De Orde van den Prince from 2017)
Chairperson of the Western Cape Archives Advisory Committee, 2019

Awards and honours include:

Special Award for contributions in the archival sphere: Dept of Cultural Affairs and Sport, 2008
Winner of the Maskew Miller Longman youth novel competition 2013 (Afrikaans books), for Een teen Adamastor
Deur na Nebula nege was voted first on the Good reads SF list (Listopia page: beste Afrikaanse Wetenskapfiksieromans), with his novel Inversium as 3rd best out of 50 on the same list. Articles on his work have been published in several publications and websites, like Litnet, Voertaal, Die Burger, Taalgenoot, The George Herald, and Kaapse Bibliotekaris.

Qualifications:
Matriculation with "A" average, HS President, 1979
BA (History and Geography majors) 1982 (Stellenbosch University)
BA Hons (History), 1983 (SU)
Higher Education Diploma, 1985 (SU)
MA History, 1992 (SU)
Diploma in Archival Science, 1994 (UNISA)
D Phil (Cultural History), 2003 (SU)
Diploma in Applied Journalism, 2007 (CPUT)
M Phil in Journalism, 2010 (SU)

Employment:
Dept of Education: 1986 - 1990 (with National Service in 1986 - 1987)
Entrepreneurial activities: 1991
Dept of Arts & Culture: 1992 - 2007
Naspers: since July 2007

Publications

Books:



TO Honiball: Culture with a smile, AFRICAN SUN MeDIA, 2004 (available as e-book)
Van Kaspaas tot Kaas: die lewe en werk van TO Honiball (2005), AFRICAN SUN MeDIA
CD ROM: Honiball 100 (in English & Afrikaans), 2004, with updated edition in 2005, AFRICAN SUN MeDIA
Op die spore van Simon van der Stel, Simon van der Stel's trek to the copper mountains (1685 -1985), (Editor: Wille Visagie), published by Willie Visagie, October 2005
CD-ROM: Verras Jouself - skryfskool 2006 - Inspirasie, Konsentrasie en Perspirasie, 2008
Een teen Adamastor, Maskew Miller Longman, 2013
Deur na Nebula Nege, Thompson Boekdrukkery, 2014
Inversium, Thompson Publishing, 2015
Omega, oor en uit, Tafelberg, 2016
Die Groot Drie, Penguin,2016
Op soek na Jacobus Verster, Groep7, 2018.

Contributions to collections:
Poetry : Die Nuwe Kinderverseboek (children's poems, 2009), "Toulopers" (poems for teenagers, 2011), Gebede vir die landskap (haiku's for adults, 2008)
Short stories: "The tree that barked" in Metz and Bop and the big library theft (2009), "Die geheim van die blou slym" in Spoke, rillers en ander grillers (2010), "Hulle kyk vir my" in Grensstories (2012) and a short story, "Stort by die werk", published in the book Skarlakenkoors (Tafelberg, 2013). Three articles in the non-fiction book Die Burger 100 (2017) and a short story in the collection 'n Engel op my pad, namely "Wat is engele werd?", 2017

Journalistic articles and columns:
Articles: Village Life magazine, @Stellenbosch (tourism guide, 2010), Cape Librarian, Beeld, Die Burger, By, Oudtshoorn Courant, Nuus Hoorn, Tygerburger, Bolander, The Plainsman, Atlantic Sun, Cape Towner
Columns: Bolander, Paarl Post, Cape Librarian and Stellenbosch Visio
Verster is a regular contributor for the web page Litnet and his work has been added to the Dutch-Afrikaans website Voertaal in 2018
Articles for academic journals
Archives News (editor: 1996 - 1997), Quarterly Bulletin of SA National Library, Hugenote Bulletin, Tydskrif vir Suid-Afrikaanse Kultuurgeskiedenis, Global Media Journal
Book reviews:
Rapport Boekeblad, Cape Librarian, Bolander, Litnet
Contributions to online history sites:
History Online, Mygeskiedenis.co.za, Litnet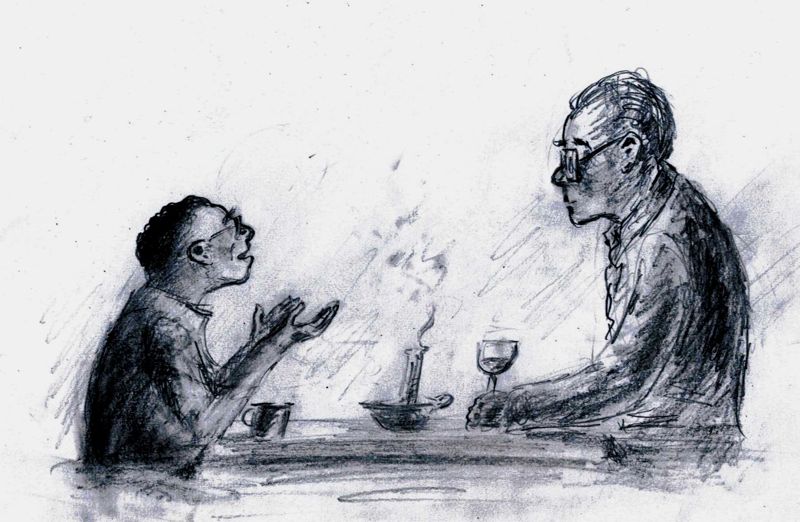 Met die elmboë op die tafel: twee groot geeste (Read the article pdf)
Bun Booyens and Pieter W. Grobbelaar
by Francois Verster, February 2013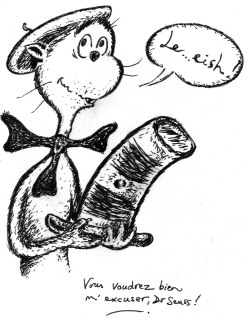 Illustration: Title: All cats are grey in the dark ... no matter which hat they wear
A nation divided - or just slightly mixed up
Appeared in the Bolander in 2007

In the preceding article I promised to write about the legacy of the French Huguenots. But first I need to clarify something: the intention of this column is not to glorify the European settlers. It was to narrate the origins of the towns of Bolander's distribution area, starting with Stellenbosch, moving to the Helderberg area, then Franschhoek, Paarl and Wellington - and then start the circuit anew, but to also move to recent times, when towns like Pniël and suburbs like Idas Valley developed.
Now for the reason for my brief sojourn from the planned route: criticism from well-meaning readers was that one should acknowledge the fact that the history of this country did not start with the arrival of white settlers. Perhaps one could argue that the history of South Africa as it is known today did start with the addition of European ingredients to the base mix of our (later) nation - the First Peoples; the San and Khoi groups.
The history of our nation began long before the 1600's (Dutch arrival) or even the 1400's, when the Portuguese skirted our coasts. In any event, the time any group populates the planet is relatively short, according to archaeology. I am no archaeologist, which is why I prefer to stick to written history (admittedly imperfect, since it was written by people, not God). However, I have now resolved to at least research chronicles housed in the Western Cape Archives to include whatever I can find about the so-called indigenous peoples - as soon as we have completed our route, we will indeed begin a new circuit; in fact step back further in time from where we "visiting" now, the early colonial period, if you will.
We also should remember that most of us are blood relations - no matter what we consider ourselves to be; black, white or whatever. It is ironic that the people most connected to the "first people" of the Cape are also the bridge between those of us representing the outer poles of the nation's racial make-up. Many people are uncertain of their identities in Post-apartheid South Africa - even many of those who were proud and certain of their cultures a mere decade ago now share an undecided self-image and tentative self-esteem. Fact is; we share a common history, even if it is only a part of a much bigger whole, even though we differ in our concepts of just how big that whole may be.
It is the mission of the historian and colleagues from other disciplines (like archaeology) to present an account of the past that is as true and objective as is humanly possible. To this end the social scientist and the journalist share common goals; an objective and meticulously-researched report of why we are where we are today. In this knowledge I am comfortable in my own (white?) skin, even though I sometimes wear two hats.


In creative company - Riana Scheepers's writing course at De Compagnie.
When I drove down the long lane to the main house of the farm De Compagnie, the beauty and tranquillity of the exceedingly neat surroundings convinced me that I have indeed arrived at Wellington's Shangri La for writers and poets - or rather those who dream of becoming creators of publishable prose.
The others nine learners arrived in drips and drabs, clearly bursting to acquire knowledge, but just as clearly quite uncertain of what this knowledge would be. And what the verdict will be concerning their writing abilities. We gathered around in the imposing voorkamer of the old Cape Dutch house, peeking at the study - or is it the dream factory - of the accomplished Dr Riana Scheepers. Many books on shelves that stretch up to the high ceiling, a brace of desks and a couple of paintings pretty much completes the picture. I recognise a Jan Visser - an abstract nude and later learn that the model for this painting is indeed one of my fellow learners, none other than the fascinating Maria with her wayward red locks and disarming way of being offhand and exuberant at the same time. Maria, a painter herself, shares a sensual outlook on literature and creativity with Scheepers, which come to no surprise to me, having met and being thoroughly impressed by the good doctor before.
Riana Scheepers is indeed one of those ladies who seem to light up a room with her mere presence and then bowl you over completely with her sharp intellect and a capacity to express herself in a perfectly rational, but colourful way. Who better then to have as a mentor for a whole week in this luscious milieu of antiques (hers) and antics (ours) - who indeed?
For the next two days we found ourselves sipping Port or Cognac from a striking array of glasses, each uniquely different in colour, shape and size. We learn about the art of writing short stories and are required to try creating such stories ourselves - as 'homework'; up to a dozen assignments each day and reading our best efforts to the class at the end of each two hour session.
The first day sped past while I was still looking around for parking space, so to speak. By the second day I felt rather flat, weighed down by the sense of suffering from a kind of none to exotic impotency. My best efforts made no discernable impression, but I decided to stick to my initial strategy of writing spontaneously with the minimum editing. In other words, not trying to make an impression, but rather to be assessed on honest, original work.
By day three, Dr Scheepers informed me that I could make it as a writer of short stories and essays. Apart from one satirical poem, she was not too impressed with my attempts at that particular genre. I also was no serious contender for one of the daily prizes for best work (did not think so myself, but must confess, I rather fancied the beautiful rose that René Greyling, the pick of our bunch, no pun intended, won for her deep, intense poems, heavily laden with raw and cryptic emotion).
However, the constant exercise of one's normally lazy right (side of the) brain made for mostly a euphoric mood while at the farm. Sampling the products of De Compagnie in those stunning glasses undoubtedly contributed, but still... Two of the many high points of this unforgettable week were the sessions in the wine cellar and, with exactly the opposite atmosphere, but equally thrilling, the session under a couple of gnarled oaks in a place so romantic and poetic I visualized a scene from Alice in Wonderland (see illustration).
When the last day (Friday 6 October) arrived like a very unwelcome guest, we were still on a collective high, only occasionally troubled by twinges of sadness. I suppose we all knew that after the farewell banquet, we would be summarily kicked out of this cosy nest of creative interactivity. The question looming large in our still reeling minds were: will we be able to take the next step on our own? And do the Johnnie Walker thing - keep on walking? Walking, writing, and struggling: that seems to be the lonely lot of the artist. We decided to at lest counteract this apparently inevitable seclusion from society by forming a support system and even resolved to publish our weeks work as a collection of mostly poems, sketches and short stories.
With the scrumptious flavour of Riana and Katryn's waterblommetjies lingering on my utterly bewildered palate, I also linger a while longer with fellow disciples former opera singer Rianné Potgieter and the enigmatic Maria at the beautifully restored Jonkershuis just a hundred yards from the main house. We vow to do our best to fan the flame that Riana Scheepers kindled in our bosoms - each will pursue the unspoken Quest: write a novel.
When I finally walk to my car, Riana appears on her stoep. We wave and she turns away, her part of the mission completed. Whether it was successful will be determined by each of us.
In the interim I salute you nine brave souls, Rianné, René, Maria, Johan, Carien, Wilna, Anita, Helena and Eileen.

Move on, the way is clear!

I am a historian. This is the subject I have studied for what seems to be all my life. And many times I have been asked: why? Why do you keep on studying? Why history? For history is dead - it is about dead people. It is about things done, which cannot be changed.
Dust onto dust ...
Only the insane act without reason. But is this reason suspect or just? In our society of suspicion and hate and fear, of each other and even ourselves, everything must harbour an agenda. Hidden, if not blatantly obvious.
In the rainbow nation there is little light, and transparency is scarce.
Or so we believe. We are in a bad place on a planet that is depleted, polluted, corroded. By the acid of us. Caused by us. Us. Our negativity is distorting the balance nature is teaching us not to. This lesson she has been repeating for memory immemorial - not time immemorial - because we have not always been here. And always is a long time (Too many zeros for us to comprehend).
But the memory exists.
With memory comes interpretation. And subjectivity, the enemy of truth. How so? Because of time. And space. And the need to change, to adapt, to move on. These compulsions have results - changes in our appearance and our ways - we ignore or misconstrue.
Humankind harbours a great diversity - diversity in thought and manner. We call it culture ... vaguely. But it is, not only, but basically, ultimately, the manifestation of thought, of patterns of processes. We buy into such patterns, such systems, which are mostly closed. Like an electrical circuit, a maze of sparks and currents we get lost in. We lose ourselves, mostly willingly. Other systems are alien. We do not know them and therefore we distrust, despise and fear them. Religion, politics ... the holy, and its supposed opposite pole does not have a planet between them like the one we inhabit and love, or infest and devour.
And there are many stories about this; fact and fiction merges. Like Twain said: the difference is only that fiction must seem credible.
We all love stories. Does this story have a happy ending? The answer has been told and foretold many times. History is the ultimate story, with an open end, the final destination. We have been given the key to that ending. It is known as freedom.
Sometimes it is best not to change. History - for instance the history of science, tells us: should the planets leave their orbits (which also have changed over the millennia), destruction will follow. This is an ancient pattern we do not get to change, should not attempt to change. But there are many smaller ones we can, and should.
History repeats itself, as the fatalistic (counter [r]evolutionary) saying goes. Is God responsible? Or us? Does God represent evil? The answer is obvious. But we still keep on repeating our mistakes. And blame it on others. Even God. Or history.
Is the Devil responsible? Or are we the Devil? The answer is there for all to see. In history. In the pattern. In the story.
And you ask me why I study? I ask you: Is knowledge arbitrary? Or worthless? Only if you are content. To plod along, to refuse to see, to ask, to learn, to improve, to adapt. To survive. If you insist to be arrogant in your ignorance and ignorant of your arrogance, survival is in the open end of the story. They say God help those who help themselves. Is this a truism? Do we have carte blanche? Ask yourself: what is the alternative? Therein lies the answer.
Why does one study history? I would have thought you know by now.
Maybe you do, or maybe you still struggle to escape the grasp of habit and the fear of excommunication. For we are pack animals and we define ourselves by those around us. Unfortunately, tragically, not always by those who came before us. We refuse, adamantly, sometimes fanatically, to see, even the devout ones. Perhaps especially them. Because we choose the straight line, the easiest route, the shortest distance between start and finish. And forget the lessons along the journey, the lessons that is the journey.
Why do I choose history? To live in it? To banish reality? No. To learn, to see, and to understand. To be able to move on.
The alternative is to be caught in a pattern which is a maze and has no future. That is the alternative to knowing. Knowing that power corrupts, that evil people crave power, that they are the parasites that kill off the body, the group, countries, civilizations. That they are the enemies of knowledge. Because knowledge will expose them.
Do we deserve to be led to our doom and that of the entire planet? Only if we ignore the signs and choose that option. We do not have to. We have a choice. We have the freedom to choose freedom.
Like the apple that once fell in order to switch on a million lights, which would defy gravity in a thousand ways, and to propel science into cyberspace, we can learn. And how does one learn? By following the dictates of others? No, we do not. We can read the signs, by going to the very source. The primary source which is history.
Perhaps one day when we have destroyed all possible manifestations of power, natural or otherwise and its sources, when the lights science has offered are snuffed out, we will again dig deep and rediscover.
And some wise person will name this discovery History.
So. See it. It is here! Already, always - or as far as the flashbacks in the story reveal. For like a novelist, the Great Storyteller shows us what happens now, to entice us to want to know what happened before. And to keep on turning the pages to the end.
Curiosity may kill a cat, but many other things will for sure. And we are not cats. We have one life each. And one planet. Learn to manage.
Read the damn manual.

---
Information by Francois Verster

www.StellenboschWriters.com © Rosemarie Breuer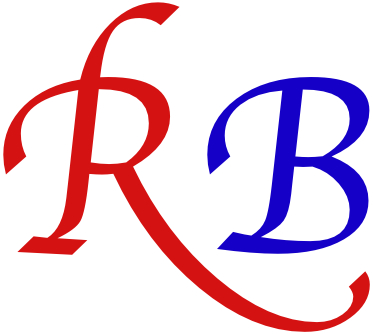 Books