Home


Nachruf www.BreuerOnline.de Klaus facebook Lebenslauf Klaus CV In memoriam Es sitzt ein Vogel auf dem Leim Favourite film and music Rosie's Gedicht für Maggie Maggie Fang Wan Maggie Facabook
---
Maggie Fang Wan (Klaus Breuer)
Josef-Heppner-Str. 21
82049 Pullach

A spectacular sunset with solar pillar
taken from the entrance of Bruynzeel House - Photo by Klaus

Klaus Breuer

1968 - 2013


Very happy in 2007

Author of Computer books
Klaus was born on 23 April 1968 in Saskatoon, Canada, where his father, Hans Breuer, was professor of Physics at the University of Saskatchewan and his mother a graduate student in Romance languages. His parents took him on many large journeys, which included Yellowstone Park and Nevada, a trip to Vancouver and even a visit to Germany and to the Libyan Sahara. Then the family moved to Pennsylvania and two long trips followed to Florida.
When Klaus was three and half years old his parents fulfilled their dream of buying a sailing yacht (his brother Hannes was two years younger and his youngest brother Florian was not yet born). For the next five years the family lived on board the Kajen .
They sailed from Portugal via Spain and Gibraltar into the Mediterranean and to Morocco, Canary Islands, down the West Coast of Africa to Dakar, Senegal, and Gambia, crossing the Atlantic from Dakar to Martinique and the lesser Antilles.
The first kindergarten and school Klaus attended were in Grand Canary and Tenerife. When he joined 'Svenska Scolan' in Los Cristianos, he was 5 years old and able to read and write. Most of the time he had private tuition from his mother (See Zettelwitz). He also learned many poems (including Goethe, 'Der Zauberlehrling' and Schiller, 'Der Handschuh') and he was always fond of poetry. When not yet six years old, he read his first novel (by Enid Blyton) - he could not wait for the nightly reading hour - and since then never stopped devouring books.
In 1976 the family moved to Germany and Austria and in 1981 they immigrated from Germany to South Africa: Stellenbosch.
At the age of 15, Klaus was bitten by the computer bug. A year later he wrote a text book on a computer language (Basic).
Klaus matriculated from Paul Roos Gymnasium in 1985. He studied Physics and Computer Sciences at the Universities of Stellenbosch and Berlin and Geography at the University of Erlangen.
In 1990 Klaus and his brother Hannes founded their own computer programming company to work freelance on many projects. Read more
The Proteus Team: Together with his father and brothers, Klaus - as the main programmer - created a proton therapy planning program, which remained for many years the most advanced program of its kind.
After a year in California, Klaus joined an IT company in Munich, Germany, which - both town and work - he enjoyed very much.
In 2003 it was discovered that Klaus had a tumor of the brain.
Klaus and Susanne are delighted parents of Ronja, born in April 2006.
In 2008 Klaus was married to Maggie Fang Wan, who is a student of applied mathematics, working on her Master's thesis.
Klaus died on 30 April 2013 in Munich. Memories and In memoriam
By the way: Klaus is 'Zettelwitz the Wizard' in his mother's bilingual children's books
Zauberer Zettelwitz vom Tafelberg - Table Mountain Wizard - Die Towenaar van Tafelberg (first published in 2010 and 2011)
She also published a photo - memory on Klaus' life: Klaus die Frohnatur.
Favourite books:
Frans Bengtson, The Long Ships: A Saga of the Viking Age (Röde Orm)
Science and Science Fiction
Quote: I would love to change the world, but they won't give me the source code
Hobbies: Travels, reading, sailing, Karate, Computer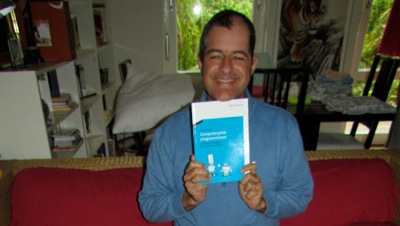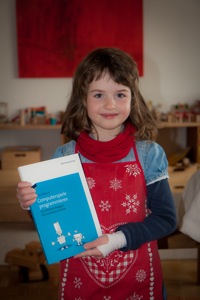 Also available as a Kindle book.

Publications:


Die Basic Fibel (with Hans Breuer), BI-Wissenschaftsverlag, Mannheim, Germany, 1986
MechWar (successful Shareware strategy game, Internet)
The (Un)official Duke Nukem 3D Editing FAQ (Internet, on v1.3 game CD)
The Unofficial Unreal Editing FAQ (Internet)
Segeln mit Piff und Maus - 5 Jahre an Bord SY KAJEN (editor), 2010
Computerspiele Programmieren: Künstliche Intelligenz für Künstliche Gehirne, Oldenbourg Verlag, München, 2012
In preparation: the English translation
Kindle editions also available at Amazon.com: Computerspiele programmieren and Amazon.de: Computerspiele programmieren: Künstliche Intelligenz für Künstliche Gehirne

Klaus' Windows conversion of the excellent Macintosh game from 1984: Learn programming with Chipwits
| | | |
| --- | --- | --- |
| Klaus and Maggie were married in 2008 | Ronja and Maggie | Klaus and Ronja |


* * *
Es sitzt ein Vogel auf dem Leim,
Er flattert sehr und kann nicht heim.
Ein schwarzer Kater schleicht herzu,
Die Krallen scharf, die Augen gluh.
Am Baum hinauf und immer höher
Kommt er dem armen Vogel näher.
Der Vogel denkt: Weil das so ist
Und weil mich doch der Kater frisst,
So will ich keine Zeit verlieren,
Will noch ein wenig quinquilieren
Und lustig pfeifen wie zuvor.
Der Vogel, scheint mir, hat Humor.
(Wilhelm Busch)

An English translation of the poem, "Es sitzt ein Vogel auf dem Leim" by Wilhelm Busch
There sat a bird stuck in a trapper's glue - this poem was written in 1874, a time when people caught birds by spreading glue on branches.

Favourite film and music: Black cat, white cat



---
Memories of Klaus Breuer
23.4.1968 - 30.4. 2013

Schöne Tage - nicht weinen, dass sie vergangen, sondern lächeln, dass sie gewesen.
(Beautiful days - do not cry that they passed but smile that they have been
Rabindranath Tagore

Wer im Gedächtnis seiner Lieben lebt, der ist nicht tot, der ist nur fern; tot ist nur, wer vergessen wird.
Immanuel Kant

Vorhin hat sich die Sonne in meinem Herzen versteckt und jetzt hat sie den Weg wieder herausgefunden.
(Earlier, the sun has been hiding in my heart and now he has found the way back.)
Ronja, Klaus' 7 year old daughter, when she came to terms with the sad news that her father was dangerously ill.

Klaus has left us at 3:48pm yesterday (30.04.2013). He was fast asleep when I got there. I brought him his favorite music. I sat by his site and talked to him about my day, the people I met, the things that happened, just like I did everyday. While the song "Hallelujah" from Shrek was playing, he stopped breathing. I held his hand and told him: "goodbye my love, you are the one. You are my gladiator, you fought so well. It is my honour to accompany you to this end. If there is light, this time please do look into it." (Every time he was pushed into the operation room, I told him:"Do Not look into the light, if there is any, it is not your time yet." He always came out of it just fine.) He went very peacefully.
We had a long time to prepare for this day and we had often talked about it: Klaus does not want any funeral arrangement or anything to do with sadness and despair. He wants his body donated to medical research. He often said: "I had a damn good life. When the time comes, you should rather celebrate my life, have a party and drink on my memory. My death is not the end, a new door opens for you all." So that's what I did yesterday, I opened a bottle of champagne and cheered him.
Please do feel sad but NOT for long, because tomorrow is going to be a beautiful day.
Maggie

Our fun loving son liked banter and jokes (and T-shirts:), but he could also be most considerate and serious. When we needed it, we could rely on Klaus to give us well-considered advice. He also wrote a lucid, witty style, which made his last computer book a success.
Rosemarie Breuer

Klaus was very keen and intelligent. Whatever interested him and he cared to learn, he did it in no time. Fortunately he was interested in many things, especially in computing and natural sciences.
Hans Breuer

Ich bin mächtig stolz auf Dich, mein großer Bruder! Du hast im Leben so viel erreicht und erlebt. Du hast 5 Jahre auf einer Yacht gelebt. Bist weit gereist: Europa, USA, Kanada, Australien, Südafrika, Orange River, Türkei, Malta... bist in Kalifornien mit einem 1968 Mustang gefahren. Du hast mehrere sehr gute Bücher geschrieben, hast super programmiert (Proteus!), hast eine tolle Frau geheiratet, und vor Allem hast Du eine ganz besonders niedliche Tochter!
(I'm so proud of you, my big brother! You have achieved so much in life and experienced a lot. You have lived 5 years on a yacht. You've travelled widely: Europe, USA, Canada, Australia, South Africa, Orange River, Turkey, Malta ... You drove a 1968 Mustang in California. You've published very good books, you are a great programmer (Proteus!), you married a great woman, and, above all, you have a particularly cute daughter!)
Florian Breuer

Klaus lived a very exciting and full life, and although we are very sad that he is no longer with us, we complied with his request. Instead of mourning his death, we tried to celebrate his life. We opened a bottle of bubbly, and drank a toast to a life well lived.
Somebody once told me, "Life is not a journey to the grave with the intention of arriving safely in one pretty and well preserved piece, but to skid across the line broadside, thoroughly used up, worn out, leaking oil, shouting GERONIMO!" I think Klaus lived by that. He's been there, done that, and got the T-shirt.
He also had an amazing ability to spread smiles wherever he went. Would do almost anything to make you smile, and was always keen for a good joke. We will miss him.
How do you encapsulate a life so rich and well lived? Klaus was so much more than we can ever define with words. He did so much more than most of us, he experienced it all, he loved it all. He lived life, to the full. There are days I envy his attitude to life. He was so spontaneous, capable of spending his last coin on a trip to see somebody, or a gift for a friend. Where I constantly worry and fret about tomorrow, he seemed able to put such petty concerns aside.
Vernon Everett

It is a dreadful tragedy for parents to lose a son and so gifted a son! I am so sorry that Klaus had to go through his terrible ordeal. Nadya forwarded to us Maggie's beautiful letter. What a courageous woman! Klaus was lucky to have such a valiant, caring and devoted wife, but also to have enjoyed such an exciting life, a thrilling boyhood onboard a beautiful ship, a stimulating time in various countries, a gorgeous daughter and a loving wife and to crown it all, the satisfaction of having finished his book. What a talented young man! He was young but he crammed several lives in his 45 years.
Anny Wynchank

Mein junges Leben hat ein End',
mein Freud und auch mein Leid;
mein' arme Seele soll behend
scheiden von meinem Leib.
Mein Leben kann nicht länger stehn,
es ist schwach, es muss vergehn,
es fährt dahin mein Leid.




---

www.StellenboschWriters.com © Rosemarie Breuer
Zettelwitz kindle versions in German and English:
At amazon.com: Zauberer Zettelwitz vom Tafelberg (German Edition)
and Zettelwitz the Table Mountain Wizard

At Amazon.de: Zauberer Zettelwitz vom Tafelberg
and Zettelwitz the Table Mountain Wizard