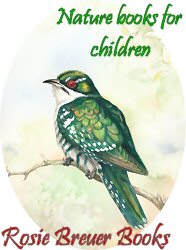 In German and English
With 74 illustrations by Rosemarie Breuer
and 62 bird paintings by Jill Adams
A delight for children and bird lovers alike and anybody else!

Softcover, excellent quality, 60 pages - Price R 220 or Euro 15.
The first 100 copies are numbered and signed by the author
Rosie at Stellenboschwriters.com

Page 1 | Page 2 Click on pictures for enlarged screenshot of double pages (of an older version).




19 Flamme


19 Flame


20 Dach


20 e


21 Haus


21 House


22 Rote Ronja


22 Red Ronja


23 Udo Uhu


23 Udo Bubo


24 Susie


24 Sealion


25 Schlangen


25 Snakes


26 Xaver


26 Yvonne


27


27 e


Glossary


Cover back


Impressum

Page 1 | Page 2 Click pictures for enlarged screenshot of double pages

---
www.RosieBreuer.com © Rosemarie Breuer